Housing
Safe, affordable, and accessible housing continues to be a concern and a priority for Region 5. Although the cost of housing continues to rise, wages are not rising. Our citizens who own their homes often struggle to afford essential maintenance and repairs.
Our Region 5 housing representative sits on the MUHC (Métis Urban Housing Corporation) Board, as well as a regional housing board. They're working alongside our executive and Métis Capital Housing Corporation (MCHC) to understand housing needs, seek support, and work towards ensuring everyone has a place they can call home.
Métis Urban Housing and MCH representative is now located in our office, which provides greater accessibility for our citizens and encourages collaboration and communication. Together with our housing corporations, we work in four areas: Subsidized Housing, Affordable Housing, Seniors Housing, and Housing Programs. Our Métis Housing Tenant Relations contact is Holdi Courtorielle.
The housing corporations are non profit and are responsible for administration, operations, and renting and maintaining units. We are grateful to our partners in this work: The Métis Nation of Alberta, Rupertsland Institute, Apeetogosan (Métis) Development Inc, and Métis Crossing.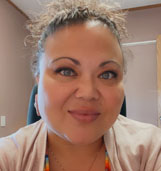 Contact Holdi